TWN Midsummer Night's Networking Cocktail (ALL REGISTRANTS)
September 21, 2023, 19:00-21:00
23/F, Gloucester Tower, 15 Queen's Road Central


Member Price: HKD 330
Non-Member Price: HKD 420
REGISTRATION CLOSED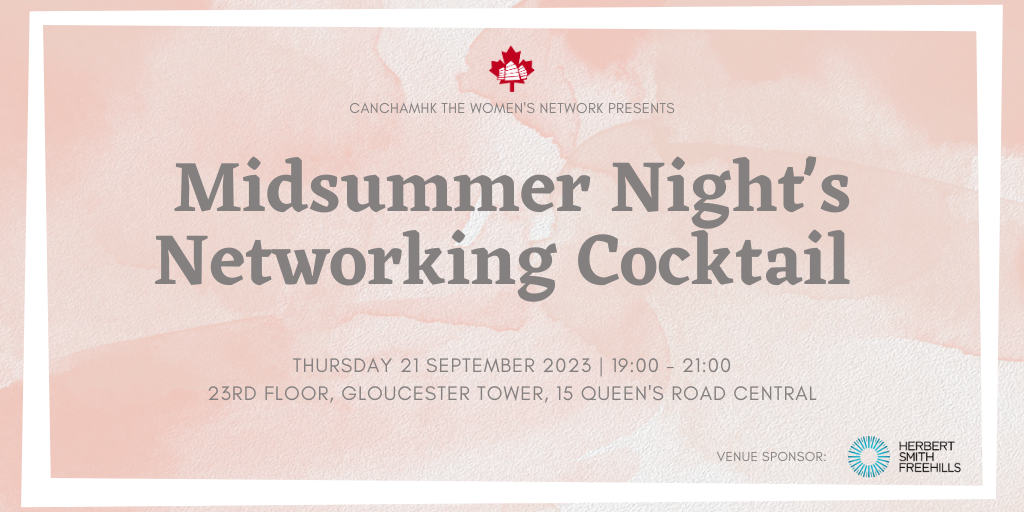 The Women's Network (TWN) is delighted to invite you to the Annual Midsummer Networking Cocktail! – Let's put on our Summer-themed attire, hats with flowers and butterflies, & etc!
Come and meet our VIP Guest Rachael Bedlington, Consul General of Canada in Hong Kong & Macao and TWN Committee*
AGENDA
6:50pm–7:00pm Registration
7:10pm–7:30pm
Cocktail Welcome and Introduction – Rachael Bedlington, Consul General of Canada in Hong Kong and Macao & Madeleine Behan on behalf of TWN
Celebrate "Women in the World of Volunteering" with Special Guests
- Vivien Webb, Board Chair, Pathfinders (Senior Advisor for the Asia Pacific Region at STS Capital Partners)
- Anne Witt, Board Member of the Chinese International School (Strategy, Land & Buildings, Finance Cttees), Hong Kong Arts Centre & Matilda International Hospital
7:30pm–7:35pm
Our warmest welcome to our Special Guest Joseph Chaung, Toronto President of HKCBA, who is also the Founder of WIN@HKCBA (Women's International Network, The Hong Kong-Canada Business Association - GTA Toronto Section)
7:35pm-9:00pm
Networking and Lucky Draw
* TWN Committee: Madeleine Behan, Anne Copeland, Vanessa Poon, Anne Witt, Joanna Chan, Sarah Borwein, Agnes Mark, Dee Cheung, Julie Labrecque-Page, Janet MacPhee
This anticipated event offers opportunities to connect, learn, and be inspired. Network with like-minded businesswomen, female entrepreneurs, and male allies. Forge valuable connections, expand your network, and unlock new professional opportunities. Share business ideas, gain insights from successful entrepreneurs, and be inspired. Immerse yourself in an empowering, growth-oriented atmosphere. Connect and engage with brilliant minds, enhancing your personal and professional development while contributing to women's success in business.
Register for an unforgettable evening of networking, sharing, and inspiration at our Midsummer Night's Cocktail. Connect, collaborate, and celebrate women's achievements in business.
*Payment Note: During payment please leave a remark with your "Full Name - Midsummer" and email finance@cancham.org and CC events@cancham.org the receipt.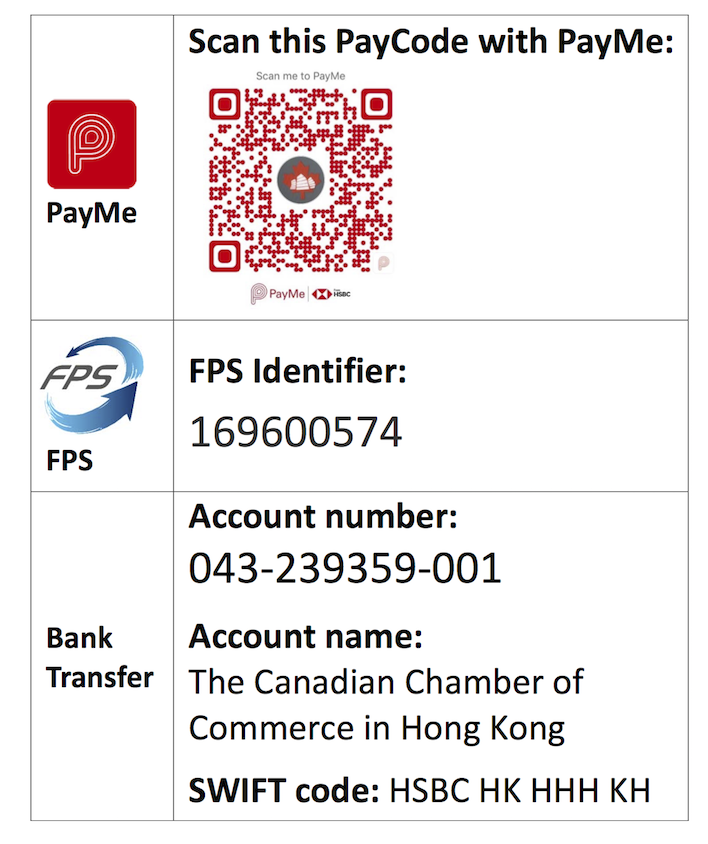 Event Organizer
Venue Sponsor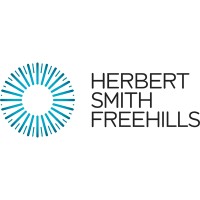 Cancellation Policy: Payment is non-refundable unless the Canadian Chamber of Commerce in Hong Kong cancels the event. If you are unable to attend, cancellations must be received in writing 72 hours prior to the event. No shows will be charged.
Photography/Filming: By taking part in this event, you grant the Canadian Chamber of Commerce in Hong Kong full rights to use any images resulting from the photography/video filming.
View More Events
October 11, 2023, 18:30-20:30
October 17, 2023, 18:30-20:30
October 18, 2023, 18:30-19:30