YPC Happy Hour
September 28, 2022, 19:00-21:00
Penicillin, L/G, Amber Lodge, 23 Hollywood Rd, Central


A reminder email will be sent to all successful registrants at 18:00 on Tuesday, 27 September 2022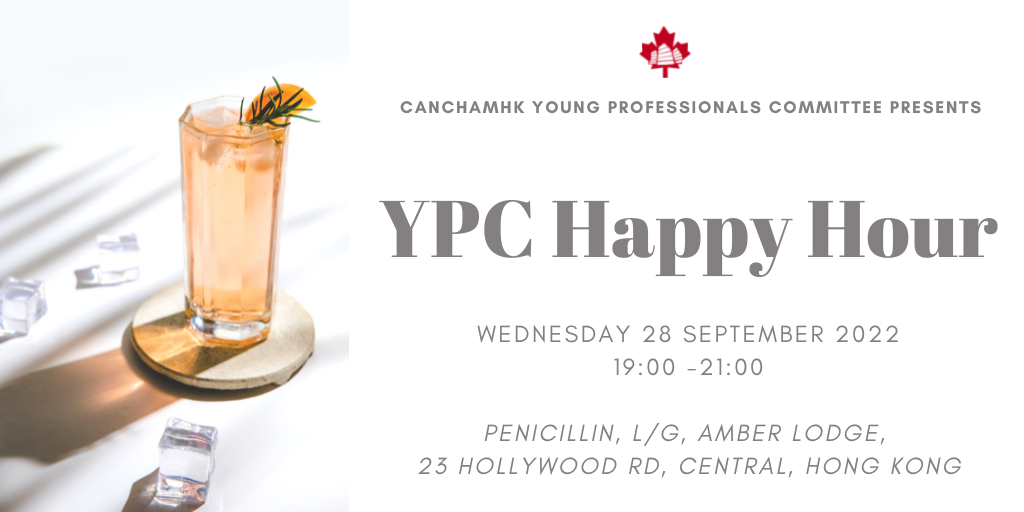 The Young Professionals Committee is hosting a happy hour at the coolest sustainable cocktail bar in town!

Pencillin Bar was listed on Asia's 50 Best Bars (#22) and we'll be trying their new menu "The Lost Heirloom", transitioning us into Autumn/Winter!

The idea is to bring back rare locally seasonal ingredients, while incorporating a special ingredient from each staff member's nationality.

We also want to take this opportunity to welcome and gather our YPC members for a quick mix and mingle. Hope to see you there!
For additional enquiries or event registration assistance please email events@cancham.org.
Event Organizer:
As requested by the venue, all participants of the event have to take a Rapid Antigen Test (RAT) on the day of the event and provide proof of a negative test result upon arrival (photo with your initials, testing date and time on the RAT). In addition, please read the terms & conditions below and let us know if you are NOT triple vaccinated.
Health & Safety Policy: All guests are required to be fully vaccinated 14 days in advance of the event date and bring proof of 3 x vaccination records onsite (picture, photocopy, LeaveHomeSafe App). All guests must also use the "LeaveHomeSafe" mobile application before entering the venue (no paper form will be permitted). Those unable to show proof of vaccination will be denied entry to ensure the safety of all guests.
Payment Policy: Pay for your own drinks upon consumption (cash bar basis).
Cancellation Policy: Payment is non-refundable unless the Canadian Chamber of Commerce in Hong Kong cancels the event. If you are unable to attend, cancellations must be received in writing 72 hours prior to the event. No shows will be charged. Please note that places are limited and will be allocated on a first-come-first-served basis.
Photography/Filming: By taking part in this event, you grant the Canadian Chamber of Commerce in Hong Kong full rights to use any images resulting from the photography/video filming.
View More Events
October 11, 2022, 18:30-21:00
October 12, 2022, -
October 27, 2022, 19:00-21:00