[WEBINAR] The Unspeakable series - Episode 2: LGBTQIA+ Communities: Inequalities and Unspoken Truths
June 28, 2022, 12:30-13:30
Member Price: Free
Non-Member Price: HKD 100
The webinar link will be emailed to all successful registrants at 6:00PM on Monday, June 27, 2022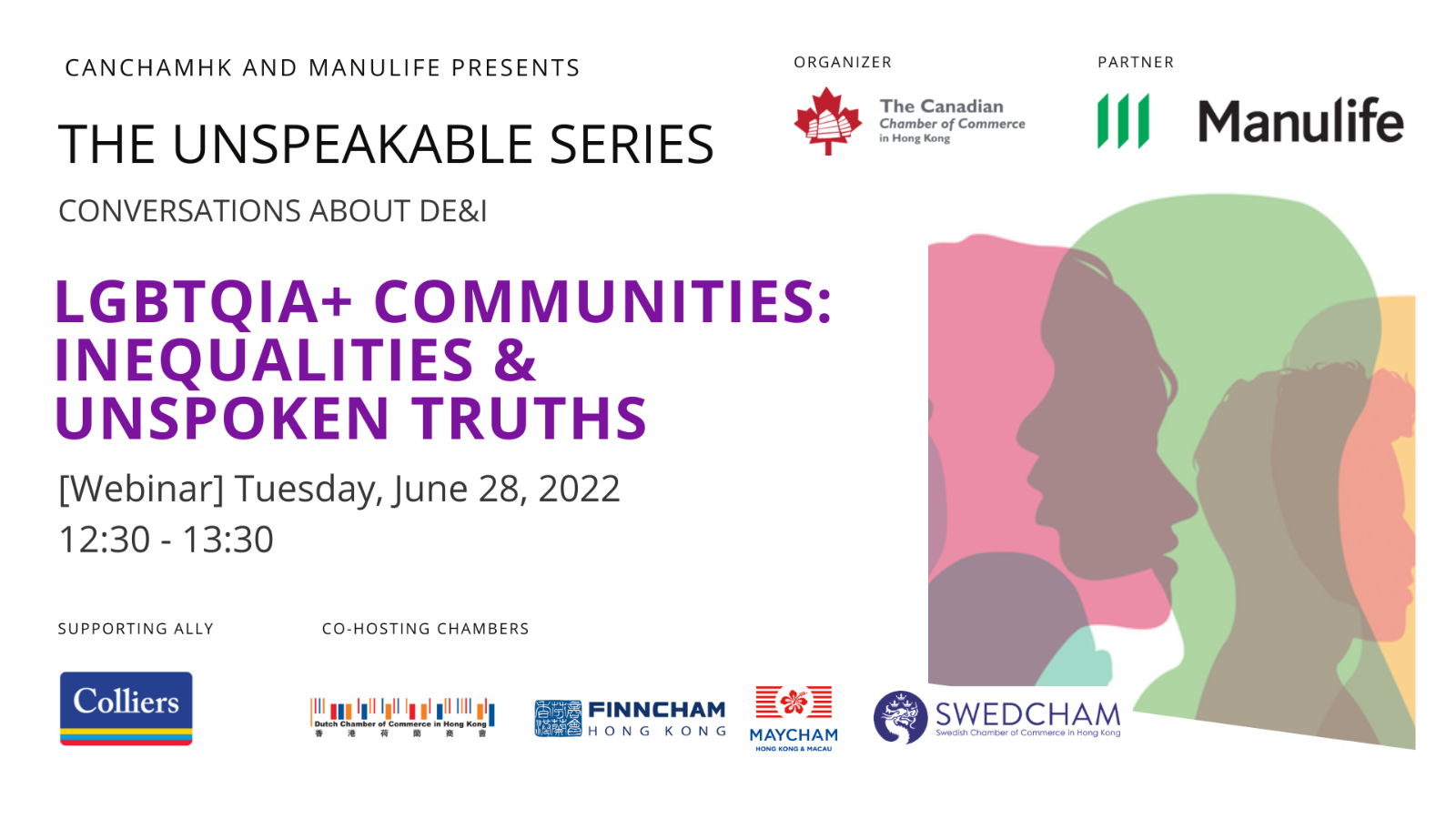 ABOUT THE SERIES
The 'Unspeakable Series' is a thought leadership series on Diversity, Equity & Inclusion. CanChamHK is pleased to partner with Manulife, a leading Canadian company in Hong Kong that is driving DE&I. Colliers, a global leader in real estate services and investment management is our Supporting Ally. Through a series of panel discussions, we aim to bring awareness to DE&I topics in the workplace and in the community. By sharing experiences we can support and encourage change around us.
"DIVERSITY is having a seat at the table, INCLUSION is having a voice, and BELONGING is having that voice be heard."
- Liz Fosslien & Mollie West Duffy
ABOUT THE EPISODE
Join CanChamHK in partnership with Manulife and supporting ally, Colliers, for the second episode of 'The Unspeakable Series: Conversations about DE&I'.
In episode 2 we will highlight the inequalities and unspoken truths that prevent the inclusion of the LGBTQIA+ individuals on their personal journeys within the communities and in our society. The communities include Lesbian, Gay, Bisexual, Trangender, Queer, Intersex, Asexual, or those questioning their gender identity or sexual orientation.
The panel will discuss:
The less visible members of this community and their current situations in Hong Kong

Unspoken inequalities and misconceptions on gender identities and sexual orientations

The absence of laws against discrimination on the grounds of sexual orientation and gender identity in Hong Kong

The feelings behind disclosure at the workplace and the intersectional approach companies could adopt to generate new understandings

LGBTQIA+ history in Hong Kong and the cultural differences (HK & the Region)

Personal experiences in regards to their family, their workplace and their community
ABOUT THE PANELISTS
JODIE CHAN (She/Her)
Co-President
Queer Straight Alliance
Jodie Chan is a fifth-year student studying at the University of Hong Kong. She is also the Co-President of Queer Straight Alliance, a student organization that supports LGBTQ+ university students and allies in Hong Kong through a series of career, social and advocacy initiatives. QSA's Mentorship Program co-organized with Fruits and Suits, a Hong Kong LGBTQ+ professional network, connects students in higher education institutions with mentors from different fields such as finance, banking, and law. It has served over 500 students in 12 years and was shortlisted as a finalist in LGBTQ+ Community Awards last year. QSA also partners with international corporations to provide career workshops and internship opportunities for students while promoting D&I in companies. Besides career events, QSA organizes regular gatherings and educational events to create a safe space for young adults ready to transition to the society with their queer identities.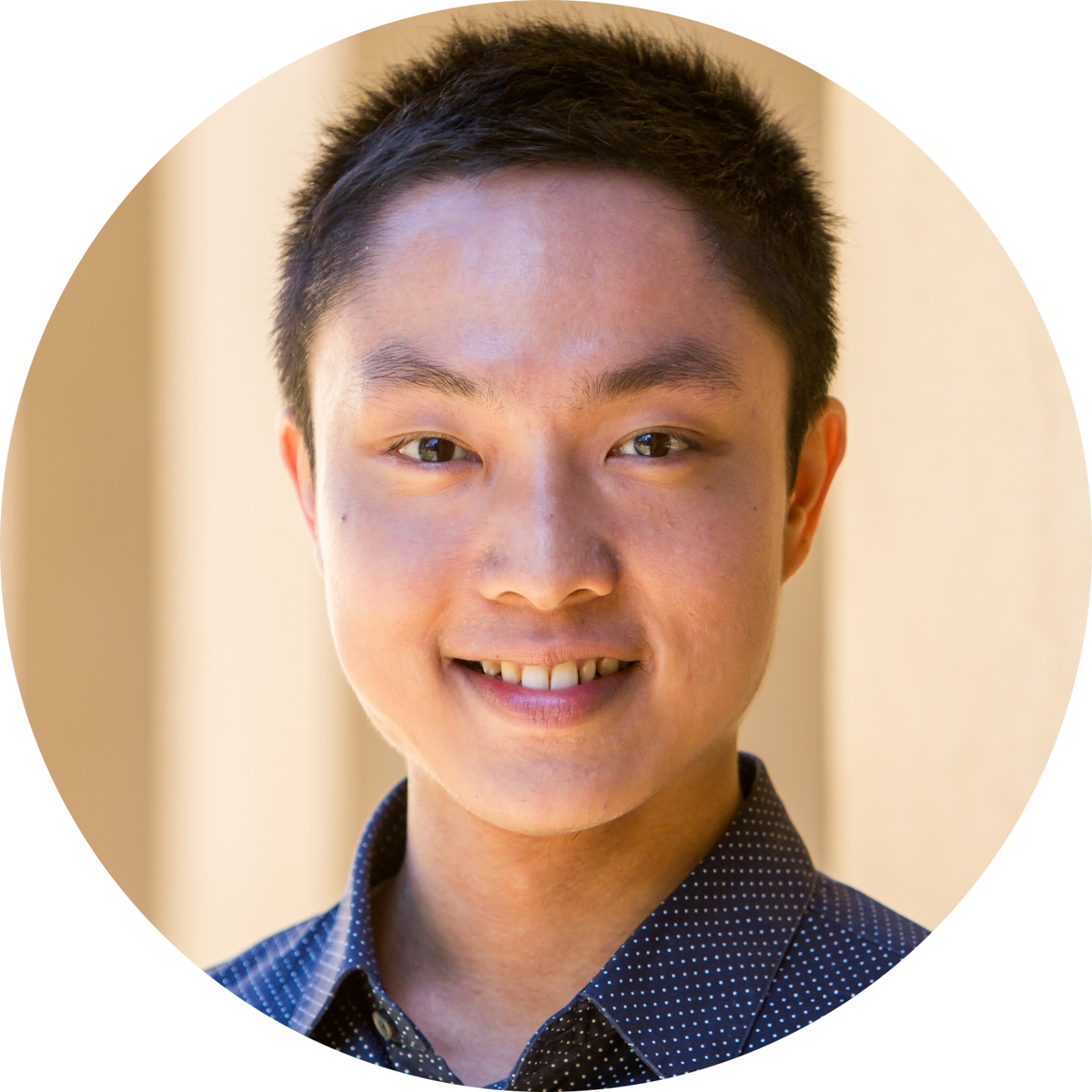 MICHAEL CHAN (He/Him)
Diversity & Inclusion Manager - Asia
Mayer Brown
Michael is the Diversity & Inclusion Manager at Mayer Brown. With a background in learning and development and cross-disciplinary knowledge in psychology and public health, Michael is currently leading the firm's diversity & inclusion effort in Asia. Prior to joining Mayer Brown, Michael worked at a Hong Kong-based non-profit that advances responsible and inclusive business practices in the Asia region. Outside of work, Michael is the Curator of the Global Shapers Community Hong Kong Hub, a youth leadership initiative of the World Economic Forum. Besides overseeing the hub, he is also leading the hub's mental wellbeing initiative, branded as "Shaping Minds", that aims to raise awareness about employee wellbeing, and to normalize the discussion on workplace mental wellbeing in Hong Kong. Michael is part of Amcham's Future Leaders programme class of 2022, and a member of the Britcham's social sustainability committee. He received his Bachelor of Arts in Psychology at the University of Michigan, Ann Arbor, and his Master of Public Health at the Chinese University of Hong Kong.

VINCY CHAN (He/They)
SOGIESC advocate, Public Speaker and Founder
The Gamut Project
Vincy Chan (he/they) is a non-binary trans singer-songwriter, illustrator, and SOGIESC advocate from Hong Kong. They have spoken extensively about their experiences as a transperson in the media, at international conferences, local universities as well as corporations. They are also the Founder of The Gamut Project, which focuses on community building for queer and trans people of colour, particularly non-binary, genderqueer, genderfluid, agender individuals or other cultural identities.
ABOUT THE MODERATOR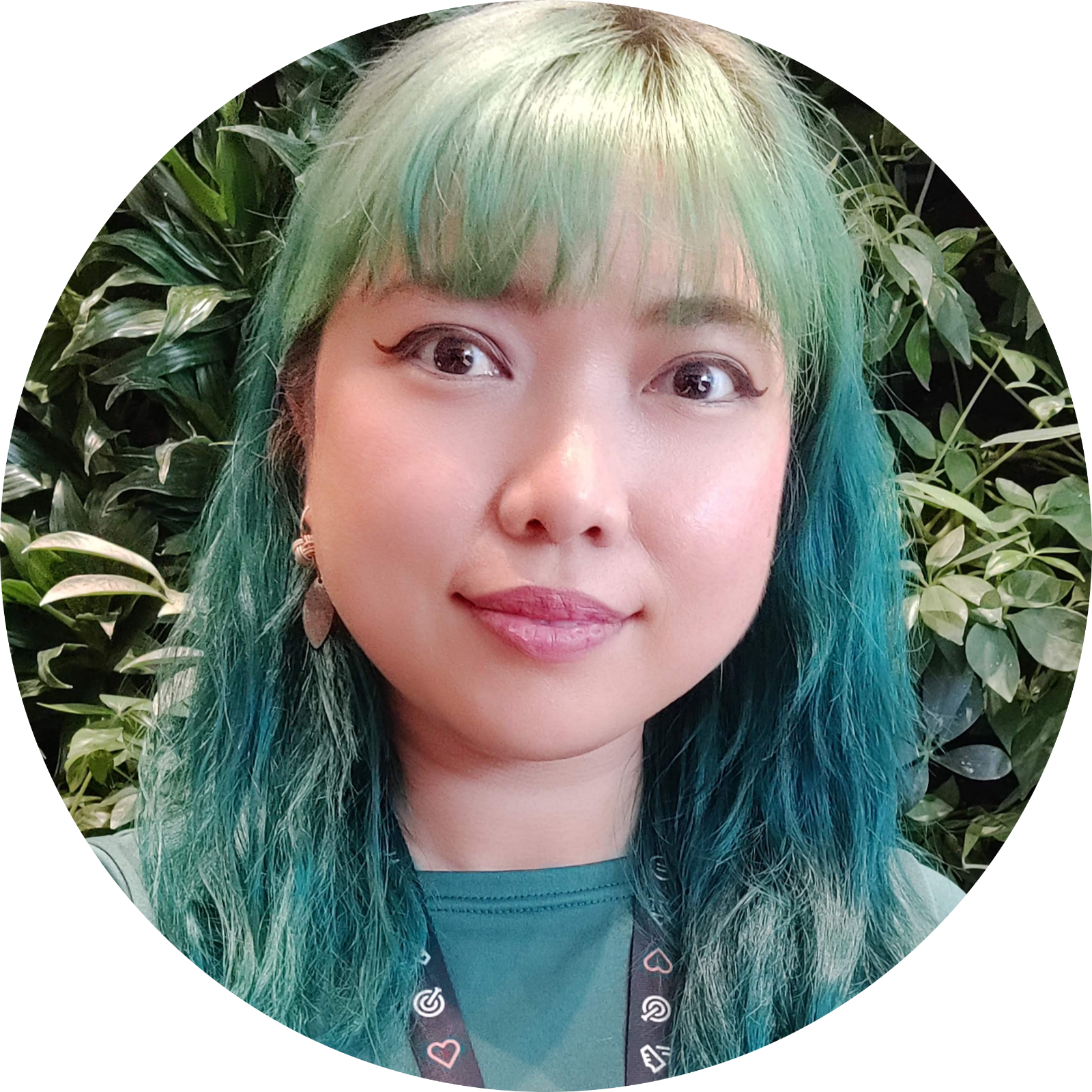 TINA ARCILLA (she/her/hers)
Senior Manager, Diversity, Equity & Inclusion APAC
Manulife
Tina helps drive diversity, equity and inclusion at Manulife in APAC by empowering employees to play a role in creating a working environment where everyone is accepted, valued and included. Tina was the Head of Community Business' Diversity and Inclusion in Asia Network (DIAN), contributing to various campaigns that tackle inequality in the workplace. Her work took her around Asia where she did research, conducts workshops, and spoke at conferences on issues like D&I Strategy, Culture, Race, Gender, Disability, LGBT+, and broader workplace inclusion. She has co-authored and contributed to the organisation's pioneering, Asia-focused research. Prior to Community Business, she was a corporate governance advocate working with the Institute of Corporate Directors (ICD) in the Philippines.
Event Organizers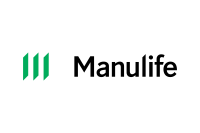 Supporting Ally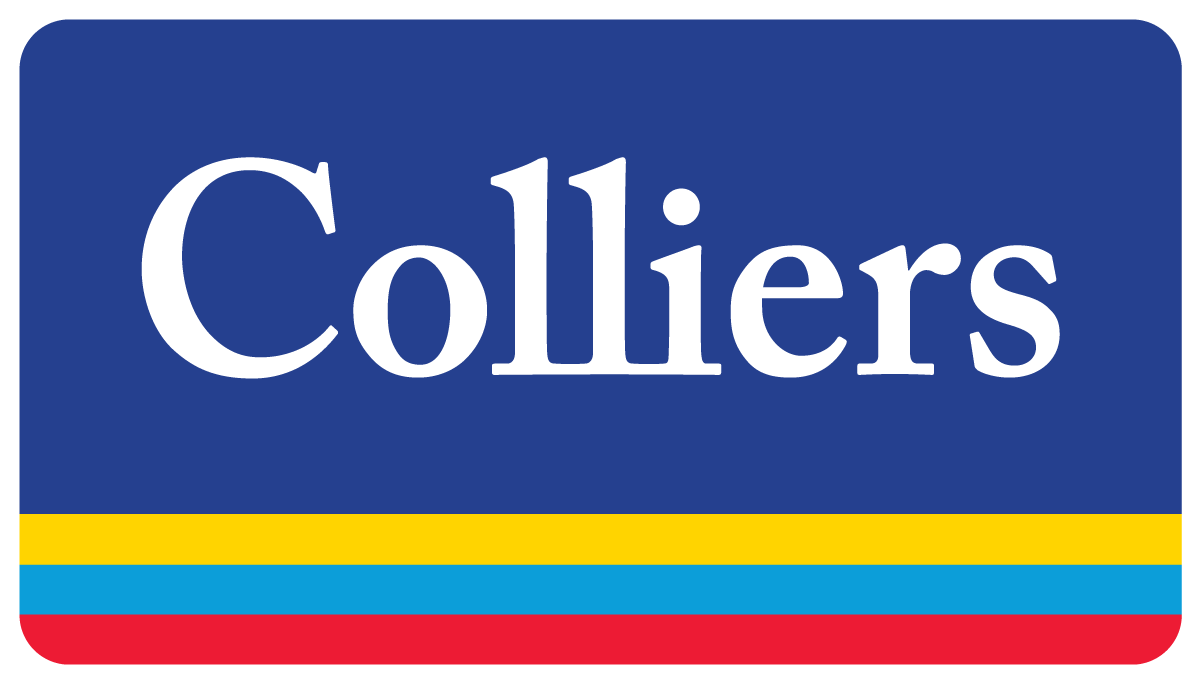 Co-hosting Chambers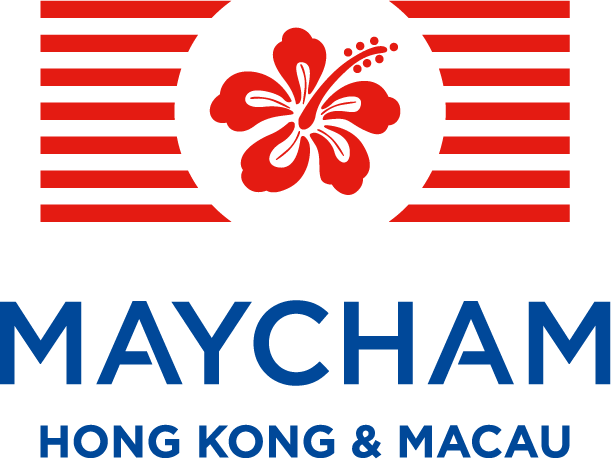 Cancellation Policy: Payment is non-refundable unless the Canadian Chamber of Commerce in Hong Kong cancels the event. If you are unable to attend, cancellations must be received in writing 72 hours prior to the event. No shows will be charged.
Photography/Filming: By taking part in this event, you grant the Canadian Chamber of Commerce in Hong Kong full rights to use any images resulting from the photography/video filming.
View More Events
July 1, 2022, 11:00-15:00
July 4, 2022, 18:30-19:30
July 12, 2022, 18:30-20:30