HK Science Park Canadian Tour
November 30, 2022, 14:00-18:00
Hong Kong Science and Technology Park


Member Price: HKD 100
Non-Member Price: HKD 250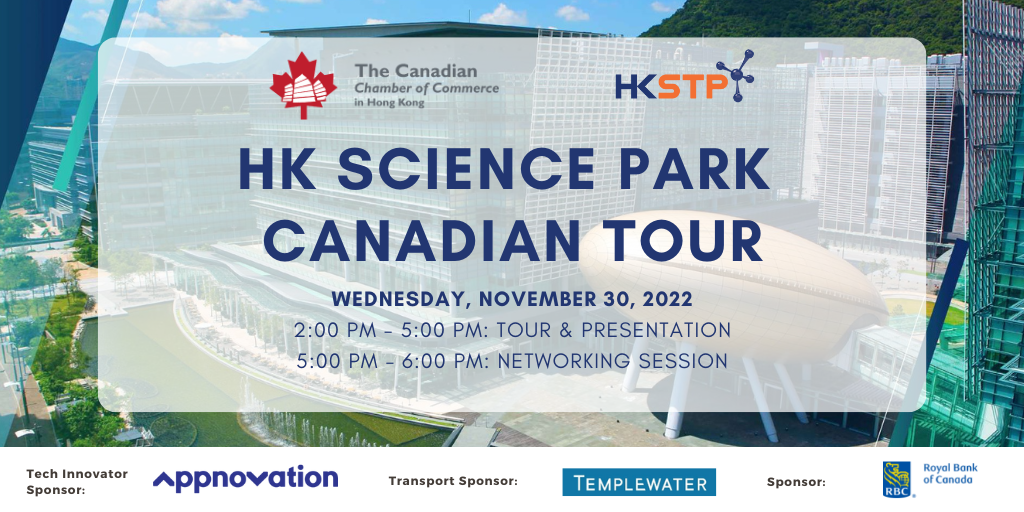 Did you know there are over 100 Canadian Tech companies in Hong Kong? CanChamHK and the Innovation Committee is partnering with the Hong Kong Science and Technology Parks Corporation (HKSTP) for a private tour at the Science Park, showcasing Canadian Companies and Future Technologies!
Join our Consul General, Rachael Bedlington for this Canadian-themed tour. This is a rare opportunity for Members and friends of The Chamber to join an exclusive Tech experience with a guided tour of the state-of-the-art facilities, networking and information session within the fields of Biomedical Tech, AI and Tech Start-ups. As space is limited, please register to secure your spot!
TENTATIVE RUNDOWN
1:15pm - 1:30pm Bus pickup at Central
2:00pm – 3:00pm Arrive at HK Science Park – Walk to Innocell from 2Wbuilding
- HK Science Park overview presentation and Innocell tour
3:00pm – 3:30pm Cross campus to 17W:
- group photo at Golden Egg
- short introduction at Tec-One (startup funding)
- rest stop at Fusion supermarket 12W building
3:30pm – 4:30pm University of Waterloo/PolyU CEVR Tour
4:30pm – 5:00pm Incu-bio and BSC lab tour
5:00pm – 6:00pm Intact Financial/Kazoo/Pantheon Lab presentation & Networking
6:00pm End of Visit

ABOUT THE TOUR
Innocell
InnoCell is a smart living and co-creation space designed for I&T talents to spark collaboration within Hong Kong Science Park. At InnoCell, we have created a new way of living, focused on a genuine sense of community, where the use of shared spaces and smart living technologies helps to build greater personal INTERACTION and COLLABORATION — resulting in a network of likeminded talents who inspire one another and have a positive impact.

Centre for Eye and Vision Research (CEVR)
Centre for Eye and Vision Research (CEVR) is a research collaboration between The Hong Kong Polytechnic University and the University of Waterloo in Canada under the InnoHK initiative of the HKSAR Government. It is located at the Hong Kong Science Park, Shatin, Hong Kong. It will be the first global hub performing ground-breaking research in five key areas – myopia and eye growth, ocular drug discovery and delivery, vision enhancement, tear film and ocular surface and advanced optometric technology. The mission of CEVR is to generate technologies to prevent vision loss in the aging population and preserve healthy vision.

HKSTP Incu-BIO program
Enabling biomedical startups to turn their R&D into life-changing solutions is in our DNA. The Incu-Bio Programme is the most ideal platform to provide our startups the best business support, investment opportunities, connections to our biomedical ecosystem, lab facilities and financial aid to bring your ideas to fruition. We have built the most thriving biotech ecosystem to help you make big strides in this competitive healthcare landscape. Incu-Bio Programme is your first step to build a healthier world.

Intactlab of Intact Financial (artificial intelligence lab at HK Science Park)
Artificial intelligence is shaping the future of insurance. Our latest lab is located in the Hong Kong Science and Technology Park to turn this vision into a reality. As Canada's largest home, auto and business insurer, we're here to cultivate the next generation of technology and talent. Together, we're helping our customers protect what matters to them most through the power of data science, machine learning and AI.
Kazoo Technology
Winner of CES 2019 Innovation Award in Las Vegas, Mr. Kendall Lo, UBC Engineering and Stanford Engineering school graduate has pioneered a way to empower touchscreens for education, gaming, events, etc. He is a graduate of HKSTP incubation program and in an example of a startup that took his concept to product reality and then go to market, taking each step of the entrepreneurial journey. HKSTP has 500 startups currently in development.

We at Pantheon Lab Ltd. push the boundaries of reality. Founded by Ivan Lau, graduate of UBC Applied Science and winner of numerous tech showcase awards, we strive to foster creativity via the use of deep learning technologies that empower our clients to visualize and intellectualize their virtual machines. Bringing digital human synthesis to the mainstream, we help content creators and companies to shape a more creative and innovative media and marketing landscape.
Event Organizers: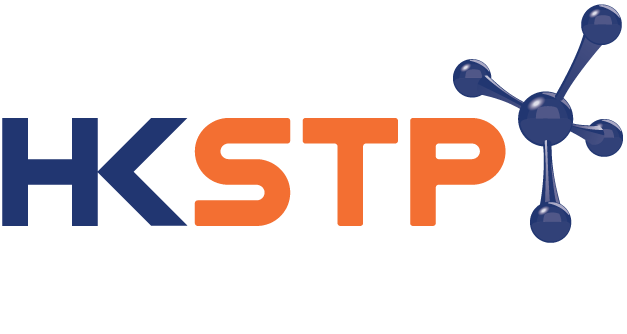 Tech Innovator Sponsor:

Transport Sponsor:

Sponsor:

---
Health & Safety Policy: All participants of the event have to take a Rapid Antigen Test (RAT) on the day of the event and provide proof of a negative test result upon arrival (photo with your initials, testing date and time on the RAT). In addition, please read the terms & conditions below and let us know if you are NOT triple vaccinated. To ensure your comfort, Covid-19 health and safety measures will be in place. No walk-ins will be accepted. Attendees must provide proof of their 3 x vaccination record and use the "LeaveHomeSafe" app at the event. If you have not received at least 3 vaccination doses, please inform us prior to the event, the Secretariat reserves the right to deny admission.
Photography/Filming: By taking part in this event, you grant the Canadian Chamber of Commerce in Hong Kong full rights to use any images resulting from the photography/video filming.

Attendance List/Marketing: By registering for this event, you consent to have your name and organization added to the list of registrants which will be shared amongst attendees prior to the event. Post event, a list with email contacts will be shared in order for you to further connect. If you would like to OPT OUT of this list, please email events@cancham.org.

Cancellation Policy: Payment is non-refundable unless the Canadian Chamber of Commerce in Hong Kong cancels the event. If you are unable to attend, cancellations must be received in writing 72 hours prior to the event. No shows will be charged.
View More Events
December 6, 2022, 18:30-20:30
December 7, 2022, 09:00-10:00