CanChamHK 2023 Annual Ball - House of Legends
May 20, 2023, 18:00-23:00
Grand Hyatt Hong Kong 1 Harbour Rd, Wan Chai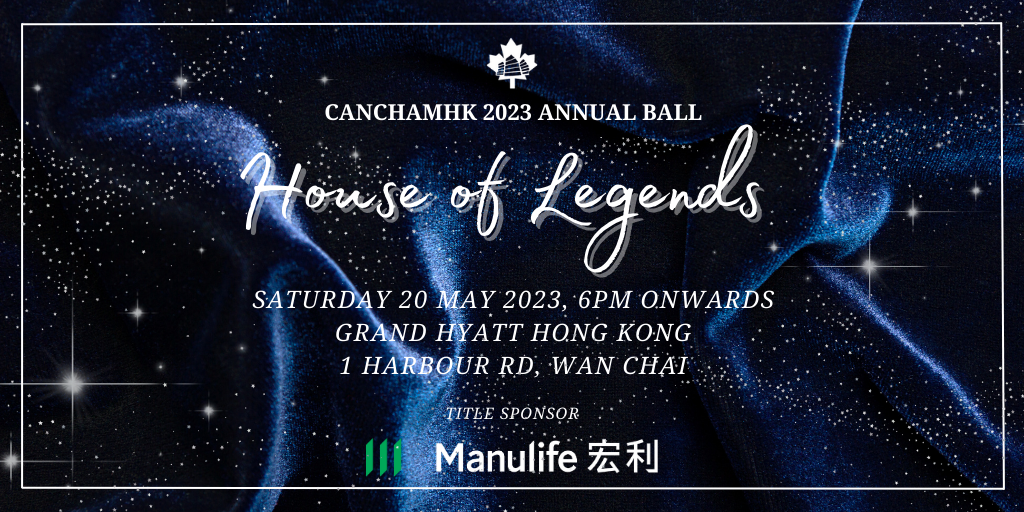 The Canadian Chamber of Commerce in Hong Kong is delighted to invite you to our 2023 Annual Ball - House of Legends! Join us for a glamorous evening of networking, great food, entertainment, fundraising at The Grand Hyatt on Saturday 20th May 2023.

Proceeds from the Annual Ball will be donated to a charity and contributions to our Chamber initiatives, including the promotion of youth development through our Internship Program and our Mentorship Program.

As space is limited, registration is on a first-come-first-serve basis.
For ticketing, advertising in our program booklet and auction item donation (minimum value of Silent Auction: HK$5,000+ and Live Auction HK$30,000+), please email our Head of Events & Marketing mark_byrne@cancham.org
Ticketing
Diamond table sponsor - $68,000
Ruby table sponsor - $55,000
Individual tickets $4,500 (non member) /$3,800 (member) *limited availability
Additional Details
- Dress Code: Black tie
- Registration is confirmed ONLY upon receipt of payment
- You will receive a confirmation email from the staff accordingly
- A reminder email will be sent to you one day prior to the event
Title Sponsor

Health & Safety Policy: To ensure your comfort, health and safety measures will be in place. No walk-ins will be accepted.
Photography/Filming: By taking part in this event, you grant the Canadian Chamber of Commerce in Hong Kong full rights to use any images resulting from the photography/video filming.
Marketing: By taking part in this event, I hereby consent to share my details for marketing purposes and agree to receive communications post event. If you would like to OPT OUT of this list, please email events@cancham.org.
Cancellation Policy: Payment is non-refundable unless the Canadian Chamber of Commerce in Hong Kong cancels the event. If you are unable to attend, cancellations must be received in writing 72 hours prior to the event. No shows will be charged.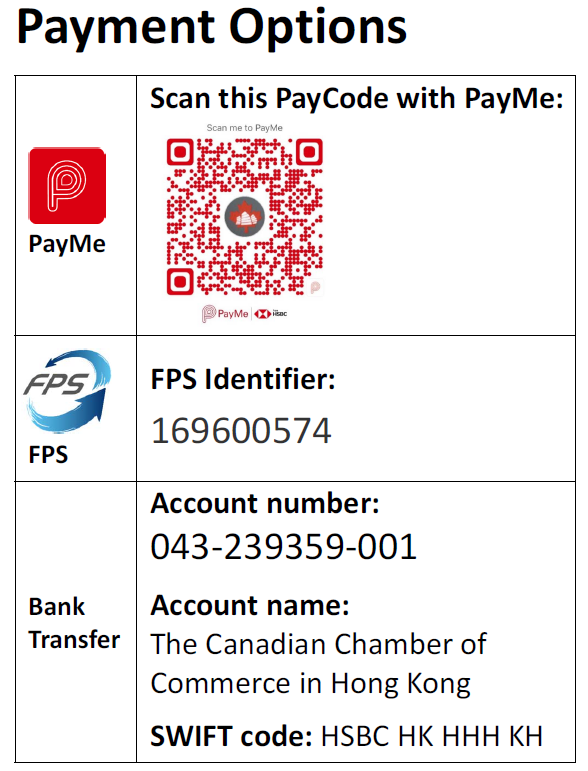 View More Events
March 29, 2023, 18:30-19:30
March 30, 2023, 18:30-20:30
April 20, 2023, 18:00-19:00