[Webinar] Manufacturing in Vietnam 101
December 7, 2022, 09:00-10:00
Member Price: Free
Non-Member Price: Free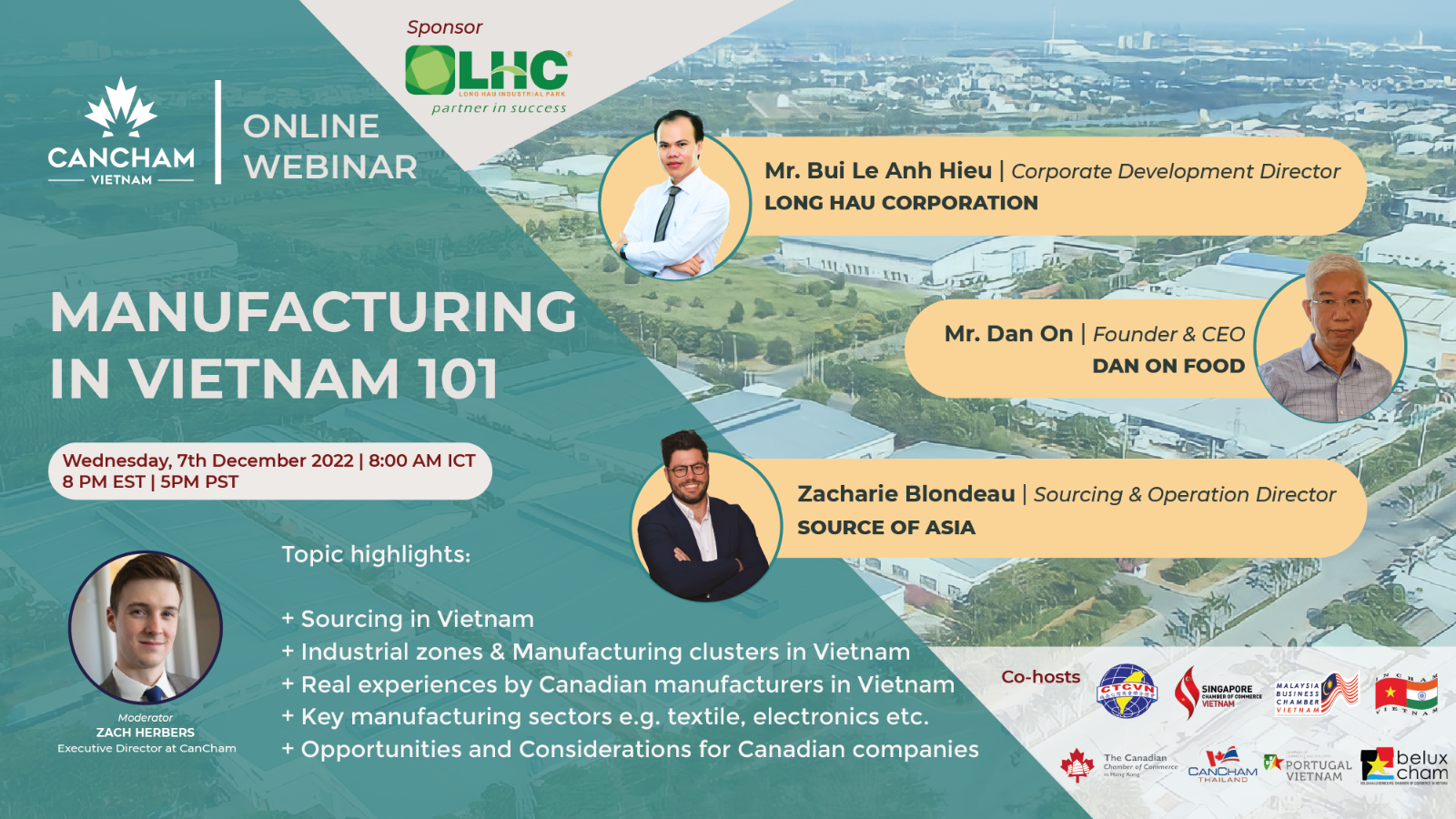 About the Event
Vietnam has become a leading destination for global manufacturing. As Vietnam's GDP growth continues to grow at one of the strongest rates in the world at 8% for 2022, the manufacturing sector continues to account for more than half of all FDI - a major driver of this sustained growth. The world economy continues to see transformation as companies look to diversify supply chains.
Join us in this free webinar - hosted by the Canadian Chamber of Commerce Vietnam and sponsored by Long Hau Group to learn about key information relating to the Manufacturing sector in Vietnam, including:
Industrial zones & manufacturing clusters in the North, Center and South

Incentives

Logistical advantages

Trends and opportunities

Key manufacturing sectors, ranging from textiles to electronics to heavy equipment to hi-tech and everything in between

Sourcing considerations

Navigating the manufacturing market

Key challenges, opportunities and advantages

Opportunities and advantages for Canadian companies

Lived experiences
To register for this free webinar, click here:
https://www.canchamvietnam.org/event-details/manufacturing-in-vietnam-101/form
Speakers:
Mr. Bui Le Anh Hieu is the Corporate Development Director for the Long Hau Corporation, a developer with a large scale industrial park south of Ho Chi Minh and development land in the Da Nang Hi-tech Park. Mr. Hieu has been promoting FDI at Long Hau for over 6 years. Mr. Hieu got his start in the manufacturing world by interpreting Japanese, English and Vietnamese for manufacturers in Vietnam. He continues to foster amicable relations between Vietnam and numerous national and international entities throughout the world. Those include private enterprises and governmental agencies from Japan, Singapore, the USA, Europe and others.
Mr. Dan On is the Founder and CEO of Dan-D Foods, established in Vietnam in 1999. It is a business group of Dan-D Foods Group with the head office located in Richmond, British Columbia, Canada, with factories in BC, Ontario, Thailand, Vietnam, California, China, Taiwan and Hong Kong, with a combined workforce of more than 800 worldwide.
Mr. Zacharie Blondeau has worked in Southeast Asia for more than 10 years in the field of logistics, sourcing and supply chain. In 2017, he started his new journey in Source of Asia as Sourcing Director/Operations Director and has been managing over 20 experts in his team for the past years. As an Operations Director at Source of Asia, Zacharie is responsible for optimizing business development, partnerships, and networking with international customers. His dual role as a Sourcing Director also enables him to cover all the activities of supplier network expansion, market evolutions analysis, and customer productions management. Zacharie is now SOA's representative of Globallians - a leading organization for international networking - and OSCI, a federation of international trade entrepreneurs.
Event Organizer
Supporting Organization
View More Events
February 7, 2023, 08:15-09:30
February 11, 2023, 09:00-11:15
February 13, 2023, 18:00-19:00