Season 10 Mentorship Program - Networking
May 24, 2022, 18:30-21:00
A reminder email will be sent to successful registrants at 6:00 PM on Monday 23 May, 2022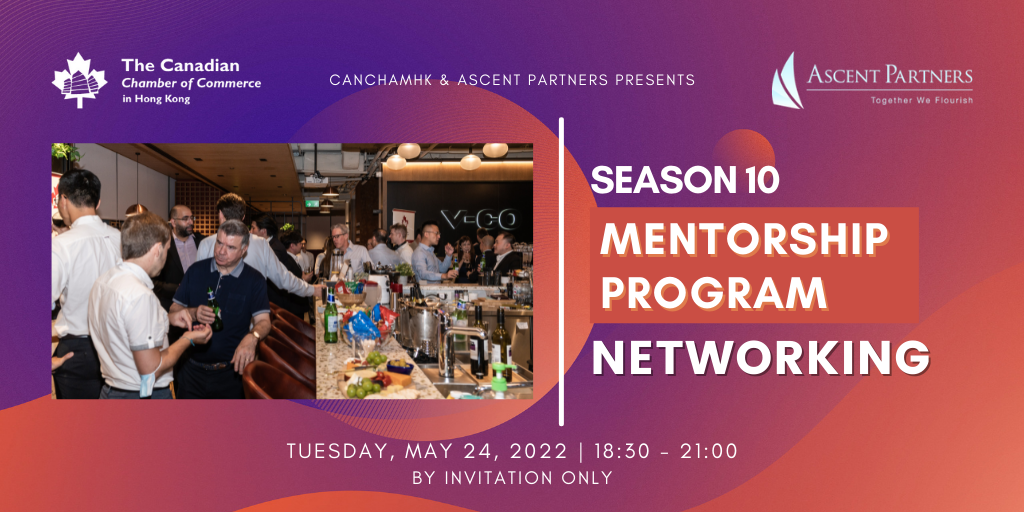 The Canadian Chamber of Commerce is excited to host the first Season 10 Mentorship Program Networking Event!
This is a great opportunity for Mentors and Mentees to share their experience and meet one another.
Please RSVP by Google Calendar Invite (mark YES/NO) on or before Monday May 16th, 2022
Event Organizer:
Title Sponsor
Health & Safety Policy: To ensure your comfort, Covid-19 health and safety measures will be in place. No walk-ins will be accepted. Attendees must provide proof of their double vaccination record and use the "LeaveHomeSafe" app at the event.
Cancellation Policy: Payment is non-refundable unless the Canadian Chamber of Commerce in Hong Kong cancels the event. If you are unable to attend, cancellations must be received in writing 72 hours prior to the event. No shows will be charged. Please note that places are limited and will be allocated on a first-come-first-served basis.
Photography/Filming: By taking part in this event, you grant the Canadian Chamber of Commerce in Hong Kong full rights to use any images resulting from the photography/video filming.
View More Events
October 11, 2023, 18:30-20:30
October 17, 2023, 18:30-20:30
October 18, 2023, 18:30-19:30