Meet & Greet: All Committees Spotlight
June 21, 2022, 18:30-21:00

V-Co, 9/F V Point, 18 Tang Lung St, Causeway Bay

Member Price: HKD 180
Non-Member Price: HKD 250
This event has been rescheduled from 9 June to 21 June 2022.
A reminder email will be sent to all successful registrants at 6:00 PM on Monday, 20 June 2022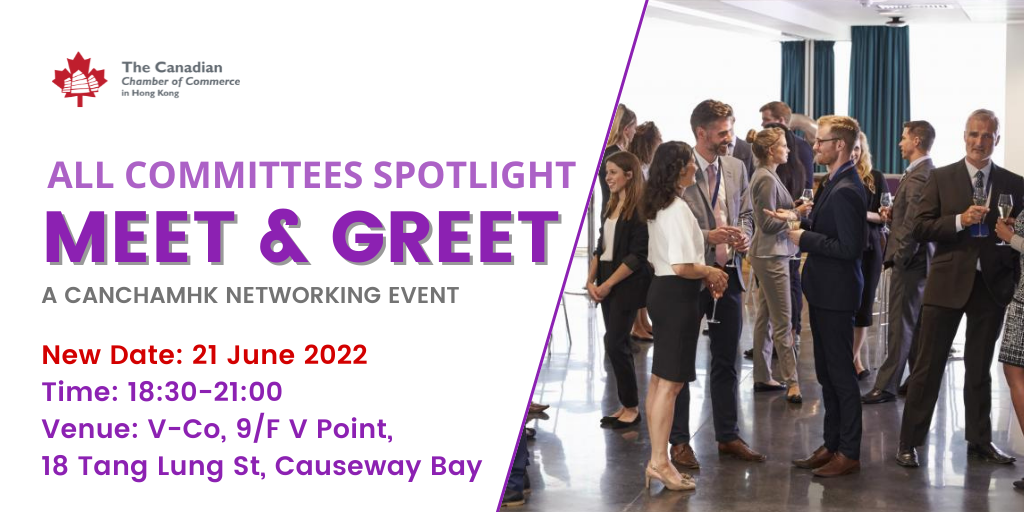 CanChamHK hosts a monthly Meet & Greet for our community to connect with one another in a relaxed and informal setting. For our first in-person Meet & Greet of the year, we'll be spotlighting all 9 of our Interest Committees to introduce themselves to our Members. Committees are the best way to connect with your peers and discuss opportunities and challenges within your industry. Join our Meet & Greet to learn more!
CanChamHK Interest Committees:
Education
Policy & Government Relations
Innovation
Entrepreneur & Small Business
Property & Development
The Women's Network
Financial Services
Sustainable Development
Young Professionals
Event Organizers:
Health & Safety Policy: To ensure your comfort, Covid-19 health and safety measures will be in place. No walk-ins will be accepted. Attendees must provide proof of their 3 x vaccination records and use the "LeaveHomeSafe" app at the event. If you have not received 2 vaccination doses and have not informed us prior to the event, the Chamber reserves the right to deny your entry due to safety reasons.
Cancellation Policy: Payment is non-refundable unless the Canadian Chamber of Commerce in Hong Kong cancels the event. If you are unable to attend, cancellations must be received in writing 72 hours prior to the event. No shows will be charged. Please note that places are limited and will be allocated on a first-come-first-served basis.
Photography/Filming: By taking part in this event, you grant the Canadian Chamber of Commerce in Hong Kong full rights to use any images resulting from the photography/video filming.
View More Events
August 20, 2022, 13:00-16:00
August 25, 2022, 14:00-15:00
August 31, 2022, 18:30-21:30