Annual General Meeting 2022 (Paid Members Only)
October 27, 2022, 19:00-21:00
Members Only (not including Affiliate Members)


Member Price: Free
Members who are unable to attend the AGM, please send a completed Proxy Form to canada@cancham.org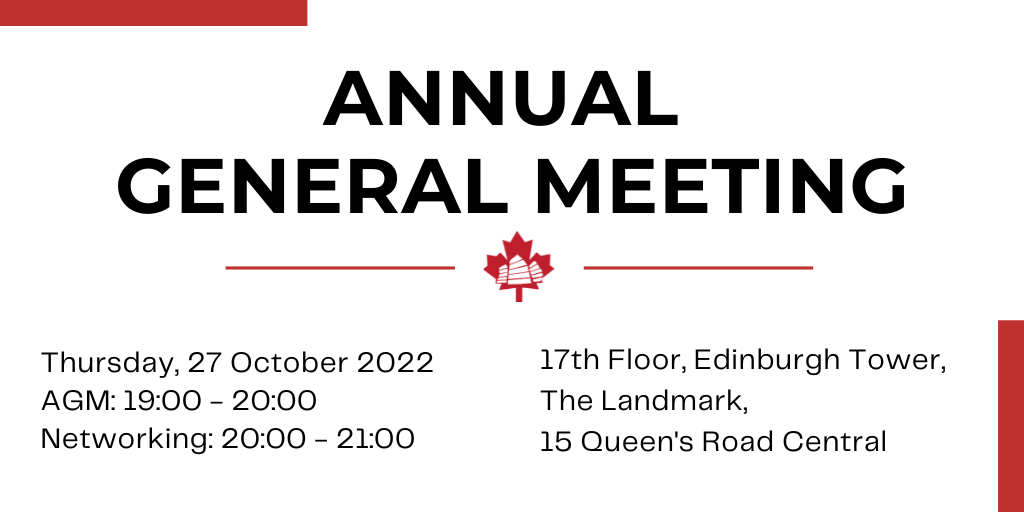 The Annual General Meeting of The Canadian Chamber of Commerce in Hong Kong will be held on Thursday, 27 October 2022 at 19:00 - 20:00 (HKT). This will be held in a hybrid format, in person and online.
For those who successfully registered to attend the AGM in person, they should plan to be seated before 19:00. After the meeting you may attend the Networking Event from 20:00 - 21:00.
REQUIREMENTS TO ATTEND THE AGM
All paid members* are welcome to register in advance to attend the AGM in person or online.
EMAIL REGISTRATION
As space is limited, please email events@cancham.org by Monday, 24 October, 12:00 to advise if you will attend in person or online. Registration will ONLY be confirmed once you receive an AGM ATTENDANCE CONFIRMATION EMAIL.
ASSIGNING PROXY
Members who are unable to attend the AGM and wish to assign a proxy must send a completed Proxy Form to canada@cancham.org by Wednesday, 26 October, 18:00.

* Affiliate members cannot attend the AGM.

AGENDA (subject to change)
1. Call to Order and Welcome
2. Confirm Notice of Meeting, Quorum and Proxies
3. Approve Minutes from Previous AGM
4. Chair's Report
5. Treasurer's Report and Approve the Audited Financial Statements
6. The Executive Committee 2022-2023
i. Elect new Chair of Executive Committee
ii. Elect new Executive Committee Members
iii. Re-elect Executive Committee Members
7. The Governors' Council 2022-2023
i.Re-elect Governors
8. Appoint Auditor for 2022-2023
9. Motion to Adjourn

Health & Safety Policy: All in-person participants of the event have to take a Rapid Antigen Test (RAT) on the day of the event and provide proof of a negative test result upon arrival (photo with your initials, testing date and time on the RAT). In addition, please read the terms & conditions below and let us know if you are NOT triple vaccinated. To ensure your comfort, Covid-19 health and safety measures will be in place. No walk-ins will be accepted. Attendees must provide proof of their 3 x vaccination record and use the "LeaveHomeSafe" app at the event. If you have not received at least 3 vaccination doses, please inform us prior to the event, the Secretariat reserves the right to deny admission.
Photography/Filming: By taking part in this event, you grant the Canadian Chamber of Commerce in Hong Kong full rights to use any images resulting from the photography/video filming.
Cancellation Policy: If you are unable to attend, cancellations must be received in writing 72 hours prior to the event.
View More Events
December 8, 2022, 08:15-09:30
December 9, 2022, 18:30-20:00
December 14, 2022, 18:30-22:30