Talent & Sustainability: From Education, to Career, to Leadership
November 4, 2021, 12:00-14:30
The Chinese General Chamber of Commerce, 8/F
24-25 Connaught Road Central, Hong Kong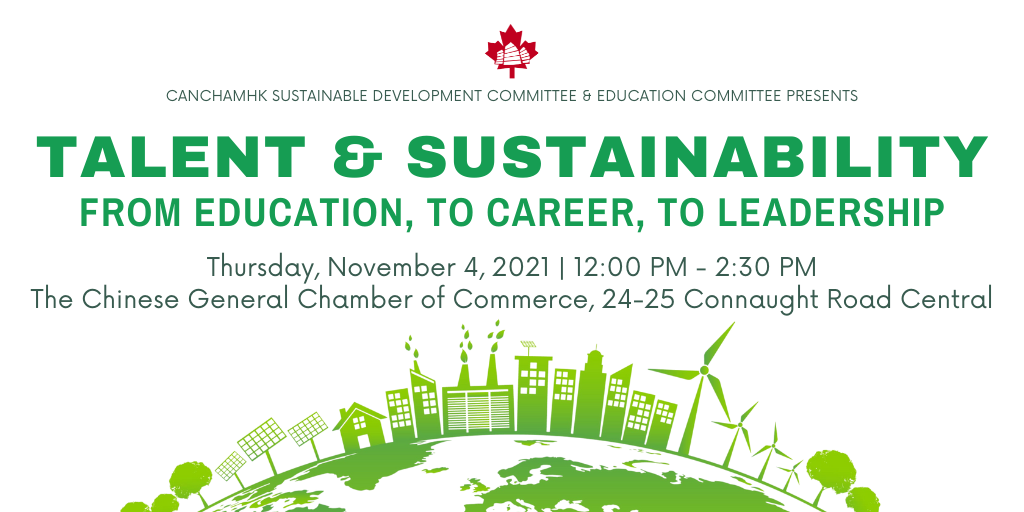 ABOUT THE EVENT
ESG: A Strategic Advantage That Businesses Can't Afford to Ignore
In the past, environmental, social and governance (ESG) issues may have been seen as secondary issues to investors and businesses with some even treating it as a compliance or PR exercise. However, it is clear from investors, regulators and other stakeholders that ESG is now a priority and that businesses will be held accountable by shareholders and customers for their ESG performance.
Businesses that truly understand ESG issues and see the opportunities and risks that they pose are better positioned to successfully navigate an increasingly complex and interconnected global marketplace that is connected by 24/7 media and under continuous scrutiny. It is about identifying and managing long-term and short-term business risks and creating a long-term sustainable advantage by standing out in a competitive and changing landscape.
To do this, business leaders will need to find, retain and leverage the best sustainability / ESG talent and leadership, but what does that mean and where do you start?
For students/educators -> what is the state of play of sustainability education in Hong Kong, where is it headed in the future? How do we educate the next generation of management and leaders?
For professionals -> insights on developing a career and leadership in sustainability, how to effectively build capacity and create value in the sustainability field
For business leaders-> how can management and leadership understand and manage complex corporate sustainability problems in the 21st century, how to attract, leverage and retain the best sustainability talent for your business?
This event is part of our Sustainability Series, featuring leaders in sustainability to discuss the future of this field, their initiatives, and how we can implement these into our own community.
EVENT HIGHLIGHTS
Understand the cores issues surrounding ESG in a direct and candid discussion.
Meet Canadian Chamber of Commerce in HK and Chinese General Chamber of Commerce members and network with other leaders, business and sustainability professionals.
At this event, participants can (1) attend the panel discussion only or (2) attend the panel discussion followed by a 6-course Chinese business lunch (vegetarian options available) with networking.
| | |
| --- | --- |
| Members (panel discussion only) | HKD 250 |
| Members (panel discussion and lunch) | HKD 450 |
| Non-Members (panel discussion only) | HKD 400 |
| Non-Members (panel discussion and lunch) | HKD 600 |
Panel Discussion Location: 8/F CGCC Building
Lunch Location: 7/F CGCC Building
RUNDOWN
| | |
| --- | --- |
| 12:00 PM | Event Starts / Registration Opens |
| 12:15 PM | Discussion Starts |
| 1:15 PM | Discussion Ends / Lunch Starts |
| 2:05 PM | Lunch Ends / Networking |
| 2:30 PM | Event Ends |
ABOUT THE SPEAKERS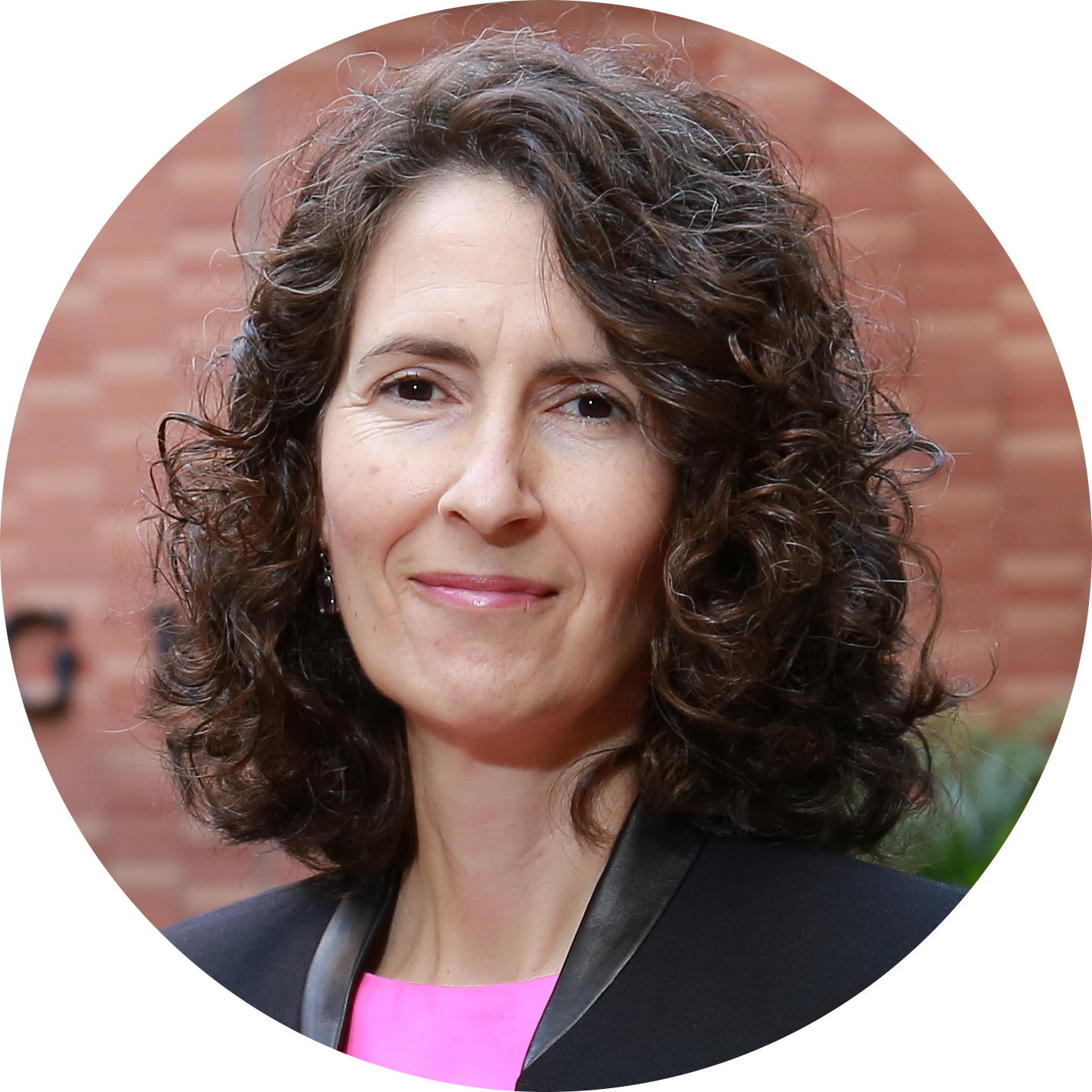 Margaret Burnett
Programme Director - Corporate Environmental Governance
The University of Hong Kong (HKU)
Margaret Burnett has 30+ years in the field of sustainability and a proven track record helping clients integrate sustainability into core organizational decision-making processes and culture. With her support, organisations have benefited from the full social and commercial value of sustainability through stakeholder engagement undertaken in a mutually-supportive process. Currently, Margaret is the programme director of the taught Master of Social Sciences in Sustainability Leadership and Governance, in the Centre for Civil Society and Governance, at the University of Hong Kong. With experience in business ethics and corporate social responsibility, has developed and delivered sustainability leadership training modules for a large MNC, and partnered with International NGO Earthwatch to deliver sustainability leadership training. She is often a guest speaker, and partners with organizations to provide support to their in-house CSR/SD initiatives. With experience with government in Canada, NGOs both there and in HK, she develops tailor-made workshops and learning modules for organisations that wish to engage with their employees, partners and other key stakeholders to raise awareness of sustainability issues and their relevance to the business. Her experience includes performance reviews, benchmarking, strategic decision-making, identifying risks/opportunities faced by organizations. Margaret has lived in HK for 22 years and holds a BA Distinction from McGIll University, MA from Waterloo, Canada, and her PhD from CUPEM, HKU.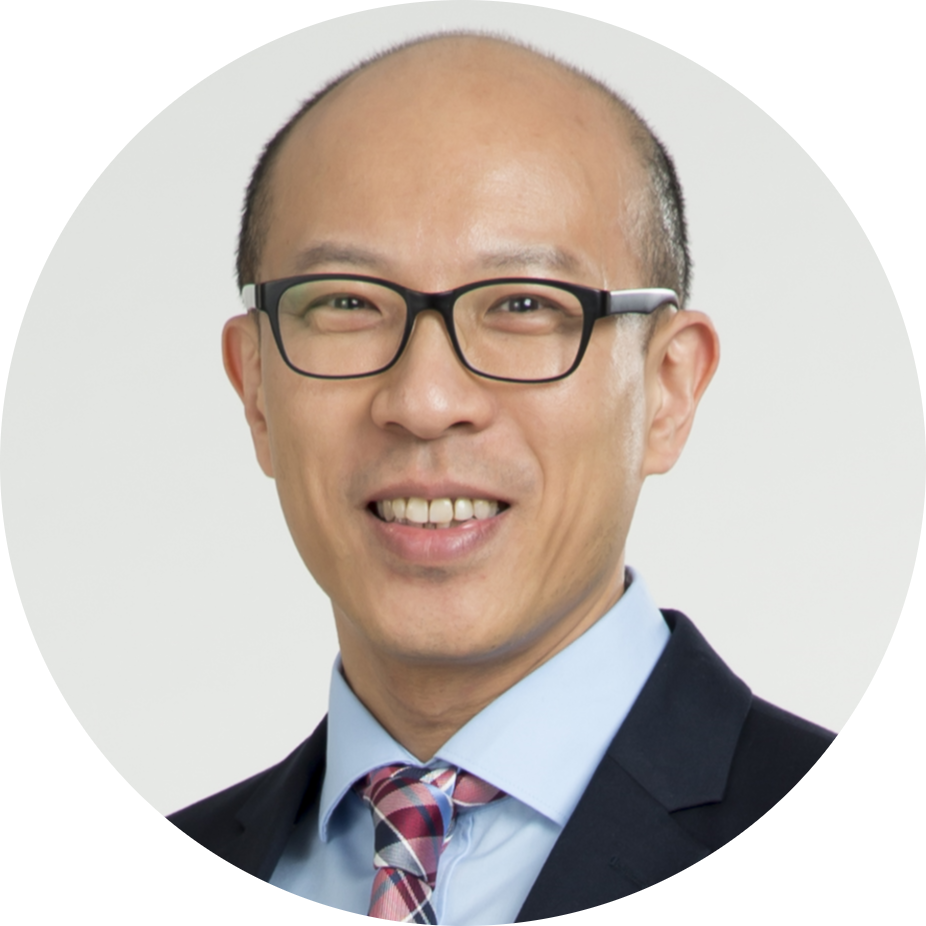 Simeon Cheng
Group Director – Sustainability
Vitasoy
Simeon Cheng is the Group Director – Sustainability of Vitasoy International Holdings Limited. He is a sustainability professional with 25 years of experience leading the development of sustainability strategies and overseeing implementation in consultancy and corporate environments. Prior to joining Vitasoy, he has served in environmental and sustainability leadership roles in the MTR Corporation and CLP Holdings Limited. He has also served in many external roles including being a board member on GRI's Global Sustainability Standards Board between 2015/2016. Simeon holds a Fellowship in Chemical Engineering with the Institution of Chemical Engineers, UK, a Fellowship with the Hong Kong Institute of Environmental Impact Assessment, and degrees in business administration and law.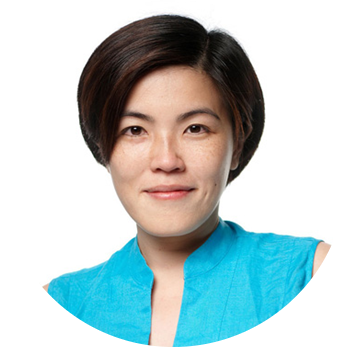 Jeanne Ng
Chairman
Hong Kong Institute of Qualified Environmental Professionals
Dr Jeanne Ng is the Founding Chair of the Hong Kong Institute of Qualified Environmental Professionals Limited (HKIQEP) and Director of the CLP Research Institute. Jeanne holds a BSc in Toxicology from the University of Toronto and a PhD in Environmental Management from the University of Hong Kong. Prior to joining CLP, she had accumulated a decade of consulting experience in Hong Kong's environmental industry as one of Hong Kong's foremost experts in air and greenhouse gas emissions inventories, including developing Hong Kong's first greenhouse gas inventory manual for the HKSAR Government. She joined CLP in 2003 and was involved in starting up its Group Environmental Affairs, Group Sustainability and more recently the CLP Research Institute functions. She established the foundation for the delivery of CLP's award-winning Sustainability Report and was a key contributor to setting up CLP Group's first renewable energy targets and Climate Vision 2050 carbon reduction targets. She was recently tasked with starting up the company's CLP Research Institute, with the main objective of informing colleagues across the CLP Group, on emerging technology trends and their implications for the business, enabling more informed medium and long-term business decision-making and strategy development. In 2015, she became the Founding Chair of the Hong Kong Institute of Qualified Environmental Professionals (HKIQEP), which was formed to support the development of the environmental professional industry in Hong Kong and beyond.

ABOUT THE MODERATOR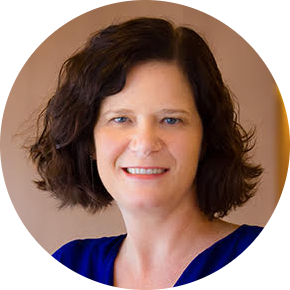 Anne Copeland
CEO & Sustainability Advisor
Copeland & Partners Limited
For over thirty years, Anne Copeland has assisted corporates and the financial sector to adopt ESG best practices. She is an independent sustainability advisor for Copeland & Partners and Sedgwick Richardson, an independent assessor for the Asian Development Bank, and a Board Advisor for the B-Corp certified Arowana Impact Capital Group. Previously, Anne was the APAC Environmental and Social Specialist for the International Finance Cooperation, an environmental lecturer at the University of Hong Kong and also worked at consultancies in Hong Kong and in Canada. In 1997, she co-founded CanCham's Sustainable Development Committee, is a Co-Director of Cancham's Women's Network and was a mentor and Advisory Council Member for The Women's Foundation. Formerly, she was a founding member of the HKSAR Council for Sustainable Development's Strategy Sub-committee, and one of the first 31 Global Reporting Initiative Stakeholder Council members.

Please note The Chinese General Chamber of Commerce rules and COVID-19 policies are as follows:
1. Business Attire is required - collared shirts must be worn by men. Jeans, sandals, and sports shoes are not permitted.
2. Attendees must have their first COVID-19 vaccination at least 14 days ago.
3. Attendees must scan the "LeaveHomeSafe" QR code at the entrance on 1/F using the "LeaveHomeSafe" mobile app. This is a mandatory requirement by the government for all zones operating under Group D operation regulations.
Event Co-Organizers

Health & Safety Policy: To ensure your comfort, Covid-19 health and safety measures will be in place. No walk-ins will be accepted.
Cancellation Policy: Payment is non-refundable unless the Canadian Chamber of Commerce in Hong Kong cancels the event. If you are unable to attend, cancellations must be received in writing 72 hours prior to the event. No shows will be charged.
Photography/Filming: By taking part in this event, you grant the Canadian Chamber of Commerce in Hong Kong full rights to use any images resulting from the photography/video filming.
View More Events
October 26, 2021, 08:00-09:00
October 28, 2021, 19:00-20:00
November 2, 2021, 13:15-14:00