Annual General Meeting 2021 (Members Only)
October 28, 2021, 19:00-20:00
Members Only (not including Affiliate Members)
5/F, Tower 3, Exchange Square, 8 Connaught Place

Member Price: Free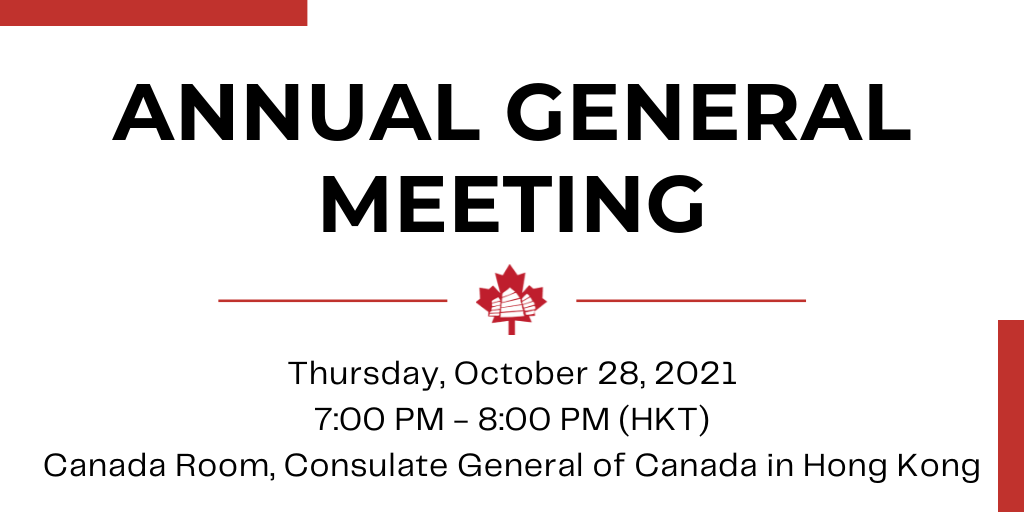 The Annual General Meeting of The Canadian Chamber of Commerce in Hong Kong will be held on Thursday, October 28, 2021 at 7:00PM-8:00PM (HKT). All paying members (not including Affiliate Members) are welcome to attend the AGM (please register in advance) and should plan to be seated before 7:00PM.

ASSIGNING PROXY
Members who are unable to attend the AGM and wish to assign a proxy must send a completed Proxy Form to canada@cancham.org by Wednesday, 27th October 2021.

AGENDA
1. Call to Order and Welcome
2. Confirm Notice of Meeting, Quorum and Proxies
3. Approve Minutes from Previous AGM
4. Chair's Report
5. Treasurer's Report and Approve the Audited Financial Statements
6. The Executive Committee 2021-2022
i. Elect new Executive Committee Members
ii. Re-elect Executive Committee Members
7. The Governors' Council 2021-2022
i. Elect new Governors
ii. Re-elect Governors
8. Re‐appoint Honorary Governance Advisor for 2021-2022
9. Re-appoint Auditor for 2021-2022
10. Motion to Adjourn

Health & Safety Policy: To ensure your comfort, Covid-19 health and safety measures will be in place. No walk-ins will be accepted.
Cancellation Policy: Payment is non-refundable unless the Canadian Chamber of Commerce in Hong Kong cancels the event. If you are unable to attend, cancellations must be received in writing 72 hours prior to the event. No shows will be charged.
Photography/Filming: By taking part in this event, you grant the Canadian Chamber of Commerce in Hong Kong full rights to use any images resulting from the photography/video filming.
View More Events
September 30, 2021, 12:30-13:30
September 30, 2021, 18:30-21:00
October 5, 2021, 09:30-18:00